It used to be said that the best things in life are free. That sentiment might not be as easy to come by these days. But even in today's time, you can still find diamonds in the rough. Especially when it comes to finding fabulous makeup at an affordable cost. The Wet n Wild makeup brand knows that. Since their West Coast launch in 1979, they've been putting out exactly that. There may not be quite as many famously memorable 99 cent items as there used to be. However, the trendsetting brand (which actually was the first to put drugstore, black nail polish on the map), still favors both quality AND quantity. Their huge array of beauty is still setting trends, and includes two brand new collections this year. The Mega Glo Hello Halo liquid highlighter and the Color Icon eyeshadow palette collections prove that you don't need to burn a hole in your pocket to have a standout look for spring.
Click above to shop more Wet n Wild items
Both collections are now currently available to buy at your local Walgreens, plus you can use the below coupon to save $1 off on your new Wet n Wild purchase.
If you're looking for a fresh, faced, dewey look this spring, definitely take a closer look at the new mega glo Halo Highlighter. The collection of liquid highlighters comes in seven, cool shades; all cruelty free, gluten free, paraben and fragrance free. A quick stroke with their easy applicator brush creates a deep glow, perfect under or over your moisturizer or foundation. Plus the Halo highlighters come in at $5; a pretty amazing cost considering what other similar, shimmery department store products typically go for. Besides the above coupon, you can also look for a Wet n Wild coupon in your local Valpak  envelope.
To get further in on all the wildness, join in the #WetNWildxWalgreens Twitter party today, March 8th at 1pm EST / 10 PST to connect with other Wet n Wild beauty lovers and share your favorite trends for spring.
Would you rather a highlighted, dewey face , or a well done, layered eye? Join in the party and share your favorite looks.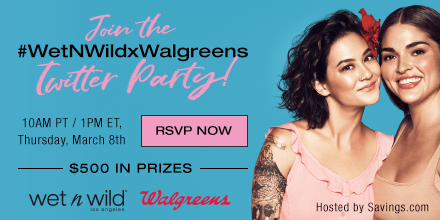 Views – 564