This blog did not receive any product samples in exchange for this post.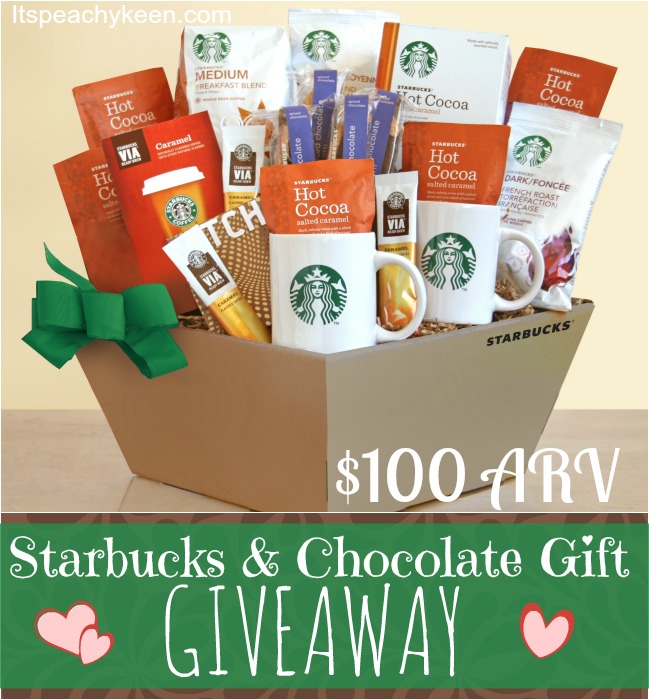 I have a slight problem with caffeine, namely, I'm a bit of an addict. Though I mostly make my coffee at home, I try to only cater to my indulgences by buying Starbucks a few days a week instead of the daily cup of java I wish I could buy. That's why, when I saw this giveaway, I had to participate, if for no other reason then to vicariously live through the winner.
One lucky person will win an amazingly overflowing gift basket stuffed with Starbucks treats, including coffee varieties, chocolate, and more.
And it doesn't stop at just there. For anyone who would love a treat filled gift basket,  Gifts A Go Go Offers so many options to fit anyone's needs. They have amazing gift baskets in all prices, and ranging from baby, birthday, bakery, coffee, kids, holidays, and so much more!  They have the perfect gift for that awesome idea!
Gifts A Go Go has some really adorable kids gift baskets too. After receiving the above Starbucks gift basket, one blogger was amazed. Sometimes the baskets come not as they look online, but Gifts A Go Go was delivered right on time and packaged just as expected if not better. Ripping through all the goodies was a high in itself, before even testing out the products, and the coffee was also amazing and fresh! Any coffee or chocolate lover should check out their coffee section for gift baskets.
And now, Gifts A Go Go has offered the same amazing gift basket featured above to one lucky reader!! How exciting! Make sure to enter, and you might be on your way to a glorious coffee and chocolate coma.
GIVEAWAY
Open to US Residents only. 18 year or older. Giveaway ends Feb 25th. Midnight EST. This blog is not responsible for the giveaway prize or shipping mishaps that may occur. Any questions please email- Itspeachykeen@live.com.
This is sponsored by Gifts A Go Go/ Hosted By It's Peachy Keen/ Co-Hosted By Military Wives Savings – A Coupon Addict – Ivy's Variety – MotherHood Community
Views – 371