I've been pretty serious about budgeting myself lately, actually for the entire month of January. And surprisingly, I've actually done a good job. I haven't gone shopping once this whole month (And January is a long one!), I've rebuffed friend's dinner invites, and even forgone my weekly blow out. I don't know if my pockets are any lighter, only mint.com can tell, but at least my mind is, a bit.
In honor of my achievement, if I do say so, myself, this week is dedicated to the art of a bargain. I'm not saying that I, myself am the one doing the shopping. No, not me. I have six days left, until my experiment has commenced, and I'm not going to blow it now. In 6 days, I can hit up my bookmarks, and see if those items originally passed on are worth my thrill, and the emptying of my wallet.
But that doesn't mean that I can't live vicariously through my friends, blogs, daily sale alert emails, pinnings, tumbles, stumbles, and more. And since I continue to obsess, but can't act on it, I'm doing the next best thing. A form of venting if you will. So if you, unlike me currently, can't pass on an amazing deal (of which there's a lot of in the month of January ironically!) then go crazy on the below. They won't hurt your budget, or your wardrobe.
1.  J.Crew Wool Pants for $25
picture / article courtesy of the
EveryGirl.Com here
I love the editorial emails that come in from J Crew daily so much, that I don't delete them. I actually save them in a file. Not only are they written so well, but they evoke a feeling in me. A thrill every time I open that email, and see that first glimpse of the product, I wonder, what is it going to tell, and where is it going to go next. Hand in hand with that, are sales that though sometimes go unnoticed, but actually wind up being some of the best steals, if you know when to grab. Case in point. These wool pants in vibrant colors. Granted, when you wait till the end of the season, not only do you get the amazing deal,  you also risk the chance you won't have any selection. However, depending on your size, there are still a few fun colors left that make this item worth it.                                  Enter Code Get40 at checkout for an extra 40% off sale items. The extra discount brings these bad boys to only $25 bucks- a major steal! Hurry, the extra 40 off ends on January 29th.
2.  Gap Colored Jeans – $21.99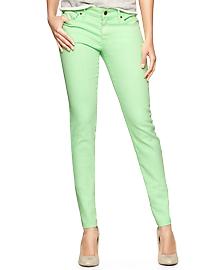 1969 neon always skinny skimmer jeans
Neon accents are going strong for Spring '13, so although this is on the end of the year sale, you can take the look well into the new season. There aren't many left, but if you act fast, you can still scoop up a pair of these comfy skinny  jeans in hot colors, Lilac and mint at a steal for only $21.99! Enter Gap30 at checkout for that extra 30 % off only through tonight.
3. Old Navy Striped Sequin tank – $5.57
Click here to buy
Everything at Old Navy is super inexpensive right now, as they get ready for the full onslaught of Spring. But until then, we can still dig, both off and on line. Sequins and stripes are still both big as we turn into the spring season. It's all about color too, and with this cute top, you get all three, for under $6! The sales are tremendous right now, and On top of that, enter Secret at check out for an extra 20% off your order. Offer good through 1/27.
4. Joe Fresh striped boat neck shirt – $10
Joe Fresh, which has grown leaps and bounds since it came to New York only a few short years ago, is a go to for easy, affordable, and still fashionable finds. Come Spring, the store is filled with fantastic finds, like the ubiquitous colored jeans, fun printed pants, printed oxford shirts and shorts, and a staple for any fashionista; the striped boatneck shirt that is paired perfectly with pretty much anything. There's a million out there to choose from, but for $10, and with 3 colors to choose from, this one is hard to pass up. For a really fun spring look, mix the stripes with another print. It's okay, I promise……
5. ASOS LITTLE Studded Ballet Flats – $ 18.42
click to buy
Last but not least, a staple item to pull everything together. A pair of black flats can add just the perfect touch to any outfit; they're easy, simple and the ultimate go-to item. Asos has an amazing sale on everything right now, up to 70% off, and the shoes are a steal, well worth their wear into spring. These studded pointy black flats for less then $20 are a no brainer.
Views – 361