Summer is a time for barbecuing, beaching, relaxing, and of course hitting up as many concerts as possible. In my family, the arrival of summer almost instantly symbolizes a three month run of attending as many concerts, both free, and otherwise as possible. Hubby eagerly sharpies in each event on our family calendar, subtly implying that for the majority of upcoming events, he will require a plus one. In other words, me. And I typically partake as much as I can, although my threshold seems to start crumbling by the third event of the week. He on the other hand, could do it forever. That's why the new promotion with Live Nation concerts and Valpak is so perfect for him, and any other music loving aficionado whose step gets peppier in the warmer months.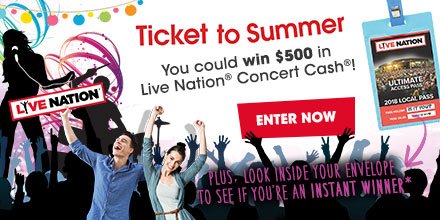 Because now through 10/7, if you buy tickets for three Live Nation concerts you'll get the fourth one FREE at various theaters and stadiums throughout the country! Head to this page to get more info, see eligible shows and purchase tickets.
And, from 6/26 – 7/20, enter for a chance to win either $500 in concert cash (one winner) or $200 in concert cash (three winners). To enter, visit the sweepstakes page on Valpak.com.
One lucky winner will find the Live Nation Ultimate Access pass inside their Valpak envelope. The pass entitles the recipient (+1) access to all Live Nation concerts of their choice in 2018!
Views – 269