One of my only memories of purple is that when I was in high-school, I had a bright purple eye-shadow that I used to wear religiously. It really brightened my eyes, and made them pop against my auburn hair, I think it was by Revlon and was $4.99.
This is really my only memory of my relationship with purple. However, thirteen years later, I could use a POP, and I think  it's time to reach out to my alumni association and broker a reunion.
Come Spring 2012, pastels are going to be everywhere. We saw it on the runways, we see it every day in colored jeans prancing around Manhattan, and, in beauty as well… (Could it be, my bright eye popping eye shadow coming back ??!!) In my opinion, though pinks, greens, and blues will abound, I think one of the breakout colors of the season is going to be a light colored pastel hue of purple. Like a lilac, but with more oomph.
And by then my foray into a darker purple will have balanced out. Winter will turn to warmer days and tepid weather, dark colors will fade to light with the season and everyone will not just look, but feel warmer. I have already started up wearing my new Revlon lilac gloss prematurely.
And as Prince so brilliantly forecast, purple will in fact, REIGN supreme…
Skirt: Forever 21.
Purple cowl neck top: Vintage Anne Klein; My mother's Closet.
Boots: Vintage Etienne Aigner
Purple Maxi dress: H&M on sale for $10
Shoes: Chanel
Bag: Jimmy Choo
My brand spanking new TODS sandals that I had eyed for a year, are now finally MINE!!
Thank you Bluefly.com for making all my pastel dreams come true….
But alas, they will not make their grand appearance officially until Spring begins…
Inspiration: (from left to right; Rag & Bone, Richard Chai, Jen Kao)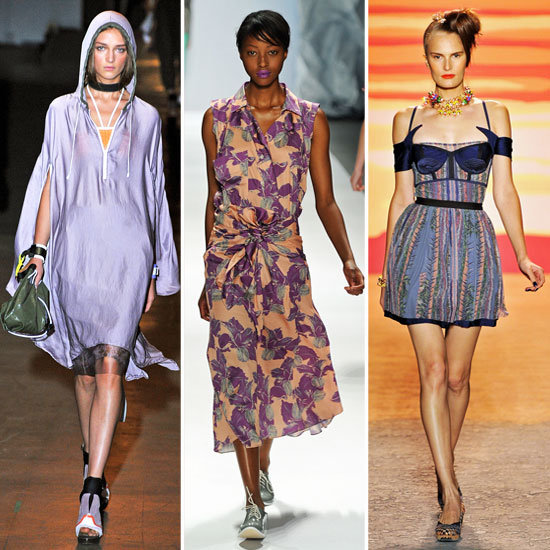 Views – 297